Projects
Healthy Kids Outreach Dental Program
The HKOP Dental Program helps improve the basic health of children in Douglas County in two ways.
For more information, click here.
Art in Health Care
For several years, Mercy's art committee of Janice Mathews, former Emergency Department nurse, Marjorie Feldman (local artist) and Kathleen Nickel (Mercy's Communications Director) have been diligently working to bring more art to Mercy. With a tiny budget, the idea was formed to purchase blank canvases and art supplies (as needed) and request community members donate their time and talents. The project starting with the theme "Be a Great Human Being" and community artists, including high school students, painted 33 portraits. The paintings include a baby, ballet dancer, king, nurse, doctor and janitor to name a few. Next came the "Pet Project" which included community member's renderings of favorite pets – which resulted in multiple paintings of cats, dogs, along with a horse and chicken. Spearheaded by Janice, in addition to the themed project paintings, local artists are also lending pieces to Mercy to display their art pieces in what were once empty hallways.
Since starting the project in 2011, Mercy has purchase a small number of paintings from local artists, as well, to create a permanent collection
The "Be a Great Human Being" and "Pet Project" collections are on display, and a third round of paintings is focuses on "The Tree of Life." All of the themed work has become part of Mercy's permanent collection. In all, Mercy currently has more than 200 original works of art displayed throughout the hospital.
Special thanks to Mercy Emergency Department employee Janice Matthews, R.N., and Marjorie Feldman, community artist, for their time, energy and passion to bring healing art to the hospital for the benefit and enjoyment of patients, families, visitors, staff and physicians.
The Family Birthplace at Mercy has been upgrading to PANDA warmers. These warmers have many unique features that allow the Family Birthplace team to care for our Douglas County newborns with efficiency and ease. This warmer comes with a built in resuscitation system. If a newborn needs immediate assistance with breathing after delivery, all of the necessary equipment is at the nurse's fingertips. The PANDAS have an innovative design and advanced technology that allows us to expedite care which then leads to better outcomes for these newborns.
The Family Birthplace staff love the PANDA warmers! Without these warmers, the risk is not having a resuscitation system at our fingertips. When an infant needs resuscitation, time is precious.
Panda Warmers for Family Birthplace Fundraiser
"I slept and I dreamed that life is all joy. I woke and I saw that life is all service. I served and I saw that all service is joy." - Kahlil Gibran
"Everybody wants to save the Earth; nobody wants to help Mom do the dishes." - P.J. O'Rourke
"If you were born with the ability to change someone's perspective or emotions, never waste that gift. It is one of the most powerful gifts God can give — the ability to influence." - Shannon L. Alde
"Being innovative in your philanthropy allows you to stride forward in your giving journey; you can marry your mind and heart to turn charity into lasting impact; and you can become more ambitious in your giving." - Laura Arrillaga-Andreessen
"Never respect men merely for their riches, but rather for their philanthropy; we do not value the sun for its height, but for its use." - Gamaliel Bailey
" Philanthropy is involved with basic innovations that transform society, not simply maintaining the status quo or filling basic social needs that were formerly the province of the public sector." - David Rockefeller
"We make a living by what we get, we make a life by what we give." - Winston Churchill
"The results of philanthropy are always beyond calculation." - Mary Ritter Beard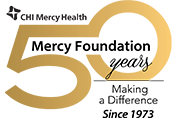 Copyright 2016 Mercy Foundation All Rights Reserved
CHI Mercy Health Mercy Foundation 2700 NW Stewart Parkway Roseburg Oregon 97471 541.677.4818