In The News
Healthy Kids Outreach Program receives boost from grant
by KPIC Wednesday, January 18th 2017
A program supporting the overall health of kids in Douglas County just got a boost from the Cow Creek Umpqua Indian Foundation.
With a $5,000 grant, the Healthy Kids Outreach Program will be able to spread its reach.
The program visits county schools and provides kids with healthy living education.
Specifically, the grant will boost the program's dental hygiene education service.
"Kids are empowered to learn those healthy habits on how to take care of their teeth, how to recognize if they're having any issues and be able to practice those things at home. We also provide them with a dental kit at the end of the education," Healthy Kids Outreach program manager Trina McClure-Gwaltney says.
The dental program reaches more than 4,000 students each year.
2016 marked 10 years for the program in the community.
Weight loss resolutions and nutrition go together
by DAN BAIN The News Review Jan 18, 2017
Nutritional health and weight loss resolutions many times go together. And on a recent radio interview with Lisa Platt on Talking Health on KQEN News Radio 1240, Jo Carol Driver, a dietician and certified diabetic educator at CHI Mercy Medical Center and Mandy Hatfield, program coordinator for OSU Extension's Snap Education Program talked about nutritional health and New Year's resolutions.
Lisa: Mandy, what is the OSU Extension Service SNAP Education Program?
Mandy: SNAP-Ed is an educational piece that is geared toward individuals that are potentially eligible for SNAP benefits and SNAP Benefits is the new name for Food Stamps nutrition education and physical action.
Lisa: What does SNAP actually stand for?
Mandy: Supplemental Nutritional Assistance Program.
Lisa: Jo Carol, is there a difference between a registered dietician and a nutritionist?
Jo Carol: Yes there is. Nutritionist can mean a couple of different things, but a registered dietician, of which I am, requires a Bachelor's degree and rigorous internship or trainingship, and passing of boards, and then continuing education to keep your registration up.
Mandy: A nutritionist actually doesn't have definition necessarily. So if you've even taken classes on nutrition, you can call yourself a nutritionist. So it's a pretty broad-cased definition, there is no certification to be called a nutritionist.
Lisa: What is physical nutrition therapy?
Jo Carol: It is using nutrition to help people with a disease that they already have. Insurance, specifically Medicare pays for just two, diabetes education and any education related to kidney and any renal disease, with the potential in the near future to be able to pay for services related to diabetes. So Medicare sort of sets that standard and other insurances and each one varies but they follow Medicare's lead and actually in Oregon it is required that if anybody has diabetes and has insurance, their insurance has to pay for diabetic education.
Lisa: It is the new year, so what are your thoughts on getting started on a healthy balanced diet?
Mandy: I would say pick a couple of small things to work on. With small goals, you are more successful and you can always add onto them and you're more likely to make life changes when you pick small things to focus on, not trying to make a huge life change all at once, but take small steps.
Jo Carol: You look at both sides of the equation, look at the food you might be eating, or wanting to eat less of, but equally, if not more important, is the activity side of the equation, and think about what you can do to become more active.
Lisa: Does this balanced diet include all the meat groups, fish, pork, chicken, and beef and if so, can you give us some idea of what amount an adult should eat, and what amount kids should eat?
Jo Carol: All things in moderation, we like to imagine a moderate sized dinner plate and to draw an imaginary line down the middle. One-half of it would be all vegetables, on the other half divided again in half, and one-quarter could be protein, a meat or meat-substitute like tofu or beans, and the other quadrant could be a grain or starch.
Lisa: Same thing for kids?
Mandy: Yes but usually you look at a little smaller plate for children. It does depend on the age level, the younger do need less protein, regardless of the form of protein. From 4-8 will eat a smaller amount, from 2-4 it will be even a smaller amount. After they hit eight, it depends on the activity level.
Lisa: Is there a perfect one-size-fit-all diet, one that contains vitamins, watching calories, fiber, and minerals? What does that look like?
Mandy: I think a diet that includes all food groups is very important when you're looking at trying to get all your vitamins and minerals. It's very important and each group has benefits and that's why they've broken them into groups, so looking at diets that include all groups and everything in moderation..
Jo Carol: A healthy diet would not eliminate any one particular group. Low Carb diets have been a fad, so cutting out greens or carbohydrates, would not make sense, but also you're cheating yourself of the vitamins and minerals that come in those foods.
Lisa: Tell us a little about what is the difference between fat-free, reduced-fat and lite?
Mandy: Most fat-free and reduced-fat and lite all have terminology for them, so if something is lite, it could have less of either fat, calories, or sodium, so you want to look at what they are saying is lite.
If it is reduced fat, it means that three grams or less of the product, whatever the serving size is that you are serving, is fat.
Jo Carol: And fat-free, means that there could be up to a half gram of fat in it, but essentially all fat has been removed.
Mercy Foundation Receives 2nd WalMart Grant
by Kyle Bailey News Radio 1240 KQEN October 26, 2016 10:05 a.m.
The Mercy Foundation recently received a second grant of $45,000 from the Walmart Foundation.
That grant is to support the work of the Healthy Kids Outreach Program in Douglas County Schools.
Executive Director Lisa Platt says they are "very appreciative of the continued generosity of Walmart". Platt says the funds mean that more students can be served with hands on nutrition training, violence prevention education and enhanced dental care services.
The Healthy Kids Outreach Program of the Mercy Foundation is celebrating ten years this year. Their focus includes dental health, nutrition and physical education classes, hygiene education and violence prevention curriculum which connects students and their families with appropriate community healthcare resources, when needed. Since it began in 2006, Mercy Foundation has served approximately 240,000 students in Douglas County through the Healthy Kids Outreach Program.
Willdlife Safari Cheetah Helps Mercy Foundation Sock Drive at K-Mart
by KPIC Monday, October 24th 2016
ROSEBURG, Ore. -- K-Mart shoppers in Roseburg were greeted in a wild way on Saturday for a clothing drive.
A cheetah from Wildlife Safari in Winston helped grab attention for Mercy Foundation's Learning Child Committee.
They spent the day with local Boy Scouts collecting socks and undergarments to help needy children in local schools.
"It's exceptionally heartwarming to see these boys live with a greater sense of purpose and mission than other kids might get," Head start health manager Sarah Wickersham says, "and I've seen that they make a big difference, too. It's so much more impactful for them to be asking for these donations for other children than it would be for us."
This was the fourth annual sock drive. The committee has given more than $12K in donations over the past four years.
Mercy Foundation on Stewart Parkway accepts donations year round.
Challenge of the Heroes Returns to Roseburg
You can view this news story with video online at KEZI - Click Here
By Tyler Jones Sep. 21, 2016
DOUGLAS COUNTY, Ore. -- The 15th annual Challenge of the Heroes returns to Douglas County Thursday night.
The public can go to area restaurants, where local first responders and law enforcement officials will be volunteering and competing to earn as many tips as possible.
All of the money raised will be given to the local UP2USNOW initiative to combat child abuse in the county.
"What we really want to do is reduce and prevent the incidents of child abuse in Douglas County, and we do that through a lot of different community projects, such as education in elementary, middle, and high school. We have an opiate task force, a human trafficking task force," said Marion Kotowski with the Mercy Foundation.
Here is a list of restaurants where you can go support these men and women:
Alexander's Greek Cuisine (Roseburg) -- 5:30 pm to 8 pm.
Brocks BBQ (Myrtle Creek) -- 5:30 pm to 8 pm.
Brix, Carlos' Restaurante (Winston) -- 5:30 pm to 8 pm.
Dakota Street Pizza (Sutherlin) -- 5:30 pm to 8 pm.
Fusion (Sutherlin) -- 5:30 pm to 8 pm.
Loggers Tap House (Roseburg) -- 5:30 pm to 8 pm.
Munchies Original (Glide) -- 5:30 pm to 8 pm.
Salud (Roseburg) -- 5:30 pm to 8 pm.
The Sportsman (Riddle) -- 11:30 am to 2 pm.
Mercy Foundation Committee replacing and refurbishing old washers & dryers for local schools
by KPIC Monday, April 18th 2016
ROSEBURG, Ore. -- Douglas County schools are eligible to receive a new washer and dryer and following a weekend fundraiser, some machines are already paid for.
The disco-themed Boogie on Down event was held in Roseburg Saturday and raised money for the machines.
Washers and dryers give children who have soiled their clothes at school the opportunity to stay fresh throughout the day, program organizers say.
The fundraiser was coordinated by Mercy Foundation's Tree of Hope committee.
"Kind of a really fun, interesting point is that 10 years ago was our first Boogie on Down and the first time we raised money for washers and dryers," says Mercy foundation executive assistant Elizabeth Droscher. "It's been ten years since we got washers and dryers, so it's time to replace them."
This year, 25 schools said they are in need of new machines. The total amount raised from the event is still being counted.
Droscher says the community was very generous and based on the attendance, the fundraiser was a success.
Mercy Foundation Teams Up with Regence BlueCross BlueShield to Tackle Childhood Obesity in Middle Schools
Monday, March 28, 2016
Regence BlueCross BlueShield of Oregon and Mercy Foundation have recently teamed up to tackle childhood obesity with a cooking and nutrition program, Kids in the Kitchen, at Roseburg middle schools.
With grant funding provided by Regence, Mercy Foundation's Healthy Kids Outreach Program (HKOP) is partnering with OSU Extensions' SNAP Ed program to offer Kids in the Kitchen classes for students in grades six through eight at Fremont and Jo Lane.
Kids in the Kitchen fills a much needed gap in helping educate students about preparing nutritious foods that provide a foundation for a healthy and active lifestyle. The new program compliments other educational opportunities offered by Mercy Foundation's HKOP and OSU Extension about healthy habits, including proper hand hygiene for kindergardeners and the impact of tobacco on their bodies for high school students.
"Cooking has become somewhat of a lost art among many of our students," says Trina Gwaltney, HKOP manager. "With our busy lifestyles and often both parents working, kids don't always have the opportunity to learn how to cook and prepare healthy foods at home."
"Learning about nutrition and cooking, especially at an early age, is a fundamental building block of health," said Scott Burton, Regence's Director of Community and Business Relations. "Kids in the Kitchen is a great example of community partners recognizing a clear need and coming together to solve a growing yet entirely preventable problem in childhood obesity."
Students ages 13-15 who sign up for the classes spend eight weeks learning to prepare simple, healthy foods that they can make for themselves and their family members at home. They also learn good food safety practices. Kids in the Kitchen lessons are based upon cognitive, physical, and social/emotional developmental milestones of this age group and include the following hour-long lessons:
Kitchen Sense
Eating the five food groups
Choose whole grains
I'll eat these veggies
Fantastic fruits
Go lean with protein
Got milk?
Meals with appeal
"While there are many factors in why childhood obesity is on the rise, we are very excited that Regence and Mercy are working together to collaborate on a school-based educational program that offers kids hands on learning," states Foundation president Lisa Platt "You could say, we've 'cooked up a local solution.'"
"We are very excited that our pilot groups have both graduated, noted Gwaltney, "and our HKOP team and SNAP teams are ready to roll out wave 2!"
For more information about Kids in the Kitchen, please contact Mercy Foundation at 541-677-4818, or Regence at 503.525.6664.
"I slept and I dreamed that life is all joy. I woke and I saw that life is all service. I served and I saw that all service is joy." - Kahlil Gibran
"Everybody wants to save the Earth; nobody wants to help Mom do the dishes." - P.J. O'Rourke
"If you were born with the ability to change someone's perspective or emotions, never waste that gift. It is one of the most powerful gifts God can give — the ability to influence." - Shannon L. Alde
"Being innovative in your philanthropy allows you to stride forward in your giving journey; you can marry your mind and heart to turn charity into lasting impact; and you can become more ambitious in your giving." - Laura Arrillaga-Andreessen
"Never respect men merely for their riches, but rather for their philanthropy; we do not value the sun for its height, but for its use." - Gamaliel Bailey
" Philanthropy is involved with basic innovations that transform society, not simply maintaining the status quo or filling basic social needs that were formerly the province of the public sector." - David Rockefeller
"We make a living by what we get, we make a life by what we give." - Winston Churchill
"The results of philanthropy are always beyond calculation." - Mary Ritter Beard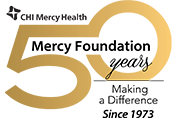 Copyright 2016 Mercy Foundation All Rights Reserved
CHI Mercy Health Mercy Foundation 2700 NW Stewart Parkway Roseburg Oregon 97471 541.677.4818